By Cynthia Mccormick - Cape Cod Times
November 18, 2012
BOURNE — Michelle DeSilva of Brewster expected 100 volunteers to show up Saturday to assemble holiday care packages for troops in Iraq and Afghanistan.
By early afternoon, 320 people had filed into Trowbridge Tavern to help Cape Cod Cares for the Troops, an organization started eight years ago by her son Dylan DeSilva.
"We had a huge turnout," Michelle DeSilva said during the organization's fifth annual Christmas Care Package Party.
"I just wanted to help support the troops," said Adam Brissette, 11, of Sagamore Beach, a student at St. Francis Xavier School.
Brownie, Girl Scout and Boy Scout troops were among those helping to stuff boxes with pop tarts, crackers and other goodies during the packaging party, which continues from 10 a.m. until 2 p.m. today.
Army National Guard Sgt. Dan Small of Mashpee remembers how the people in his unit in Afghanistan appreciated the care packages from Cape Cod.
"One of the packages they sent had Frisbees in it," he said. "We ran outside and started playing."
The Frisbees brought an element of "home and normalcy" to a wartime setting, said Small, who is on Cape Cod Cares for the Troops' board of directors.
Everybody in his unit also got a Christmas present from the organization, Small said. The name "Cape Cod Cares for the Troops" will ring a bell with most soldiers in Afghanistan, he said.
Over the past eight years, Cape Cod Cares for the Troops has sent 12,823 packages to war zones and other U.S. military postings abroad, including a helicopter base in Africa, said Dylan DeSilva, who came home from college to help with the packaging party.
He got the idea for sending care packages to the troops when he was 12 years old, after his Boy Scout troop sent one to the leader's son.
Dylan enlisted the help of his parents and three siblings in the project, assembling six Christmas care packages that they delivered to Erin Creighton, 102nd Airman and Family Readiness Program manager at Otis Air National Guard Base, at a nearby McDonald's.
People couldn't just drive onto Otis military reservation so soon after 9/11, Dylan said. After that, the project grew and grew.
This Christmas season Cape Cod Cares for the Troops is shipping 1,500 care packages overseas, said Dylan, a sophomore at Ohio Technical College in Cleveland.
"It's amazing how much it's grown," he said.
Service people from Cape Cod and Massachusetts get first dibs on care packages.
But Cape Cod Cares for the Troops also sends boxes of goodies to soldiers from other states, especially those who do not receive mail because they have no family or their families can't afford the shipping costs, Dylan said.
It costs $10 to $15 to mail each package, he said.
This year the organization expects to spend about $22,000 shipping the holiday packages, but as of Saturday afternoon it still needed to raise $10,500.
Monetary donations are a little tight this year, which Dylan attributes to the economy. A fundraiser in May raised $5,000 less than in other years, but just as many people showed up as in the past, he said. The organization has expanded beyond care packages.
Cape Cod Cares for the Troops is now affiliated with a wounded warrior unit at Fort Belvoir in Virginia and is providing Christmas presents for 28 families there, Michelle DeSilva said.
Some of the families have been adopted by what one might call a "satellite office" of Cape Cod Cares for the Troops — the Fairfax, Va., workplace of Dylan's sister, Jaime Sundby.
His maternal grandparents, John and Nancy Sullivan, also are involved, doing Christmas clothes shopping for the Fort Belvoir children.
In addition, Cape Cod Cares for the Troops provides items for U.S. humanitarian aid missions to orphanages and medical and dental clinics in Iraq and Afghanistan, Michelle DeSilva said.
Locally, plenty of Cape Codders support the mission.
The post office in East Harwich was scheduled to open at 6 a.m. today to accept the first shipment of 1,000 care packages, Dylan said. He said post office employees were volunteering their time to help.
November 14th - Monument Beach Sportman's Club
Monument Beach, MA. - The Monument Beach Sportman's Club donated $1500.00 towards Cape Cod Cares for the Troops project with Fort Belvoir's Wounded Warriors and their families who need help during the holiday season.
November 10th - Military Appreciation Day
Pocasset, MA. - Cape Cod Harley and Cape Cod Cares for the Troops raised $500.00 and 3 truckloads of care package supplies were donated. Thank you to ALL that participated.
November 1st and 2nd - Fort Belvoir
Virginia - Cape Cod Cares for the Troops meets with Wounded Warrior and their family member who need help during the holiday season.
November 1st - Halloween Candy Swap
Brewster, MA. - Thank you to East Brewster Dental and everyone who stopped by to donate candy. We appreciate your support and know the troops love candy.
October 6th - 4th Annual Canal Run for the Troops
Bourne, MA. - Raised over $10,000.00 towards Cape Cod Cares for the Troops Christmas care package drive. Thank you to ALL that participated!
September 29th - Best Buy . Hyannis, MA.
Best Buy hosted the 2nd annual "Honoring Our Everyday Heroes". Cape Cod Cares for the Troops set up a card writing table to collect cards to be included in the care packages to be sent to our deployed troops.
September 22nd & 23rd Camp Edwards Open House
Cape Cod Cares for the Troops participated in their 3rd annual open house.
August 19th - 2nd Annual Mark Vecchione Fishing Trip
Cape Cod Cares for the Troops and Rock Harbor Fishing Charter Boats hosted the event. Iraq / Afghanistan Veterans and their guest were treated to a day of deep sea fishing and a huge BBQ was provided by the Orleans Elks Club. Highlight of the day was when Mark's mother Cynthia presented each of the captains with a memorial challenge coin from Mark's Unit.
8th annual
Troops in the Spotlight
May 27th and 28th at K-Mart Plaza in Hyannis, Massachusetts. Thank you to all that came we raised $18,000.00 and donations that filled an eighteen foot box truck!
KITCHEN AID
Thursday May 10th at the Hyannis Resort & Conference Center
Special Sheriff Jeff Perry and Sheriff James Cummings hosts of "Kitchen Aid" to raise funds to outfit 280 Kitchens for the Wounded Warrior Transition Battalion at Fort Belvoir.
The benefit raised over $36,000.00! Thank you everyone!!!
Saturday March 31
At a ceremony held at the Orleans / Eastham Elks Club, Dylan was honored with the "Elks Distinguished Citizenship Award". Dylan is presently in Cleveland attending Ohio Tech, so his mom, Michelle, accepted the award on his behalf from Exhalted Ruler Ronald Teele.
Cape Cod Technical High School
Harwich, MA. Thursday March 22
The students and faculty of Cape Cod Tech got together today with Cape Cod Cares for the Troops to put together over a 100 care packages to be sent to our troops.
- March 16th -
St. Pius School's 3rd annual donation drive for the Troops. They filled 8 boxes with supplies which they donated to Cape Cod Cares for the Troops.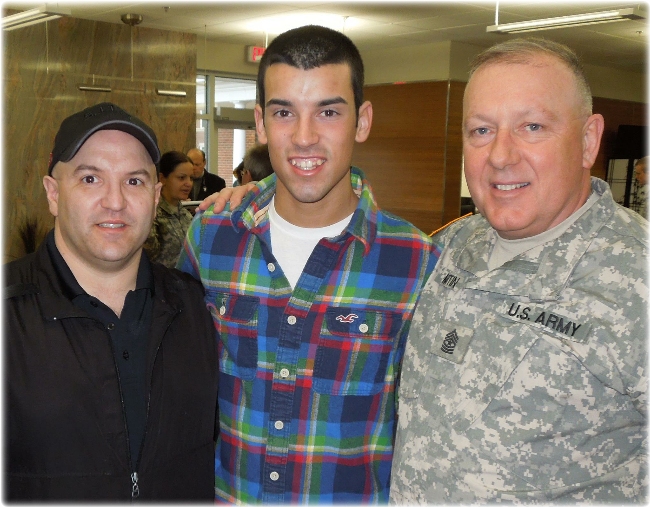 Fort Belvoir - Virginia
February 24
Dylan meeting with members of the Wounded Warrior Transition Unit at Fort Belvoir. It is here where Cape Cod Cares for the Troops will be Sponsoring 280 units with all the utensils shown below. Each unit cost about $80.00. Contact us if you would like to help.
February 1, 2012 -
Michelle DeSilva receives a check for a $1000.00 for Cape Cod Cares for the Troops from Don Devine and Mark Butler of the Chatham VFW.