2013 Christmas Care Package Party
Trowbridge Tavern - Bourne, MA.
November 23rd and November 24th
November 22nd - Monument Beach Sportman's Club
Monument Beach, MA. - The Monument Beach Sportman's Club donated $2000.00 towards Cape Cod Cares for the Troops project with Fort Belvoir's Wounded Warriors and their families who need help during the holiday season.
Cape Cod Harley Davidson - Military Appreciation Day
Bourne, MA.
Saturday November 6, 2013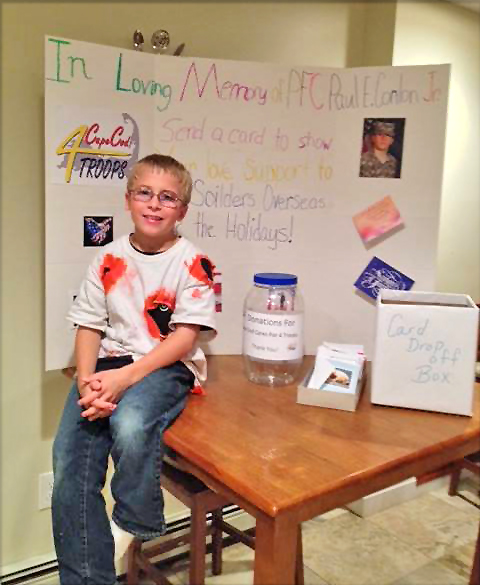 November 6, 2013
Conor is hosting a greeting card drive at Quashnet School in honor of his cousin PFC Paul Conlon. He will be collecting cards and letters to placed in Christmas Care Packages going to our deployed troops. Conor will also be at Cape Cod Harley Davidson this Saturday from 10am - 3pm with CCC4TT.
How To Donate Halloween Candy To Soldiers Overseas
BOSTON (CBS) – Even after the trick-or-treating candy binge on Halloween night, chances are you and your kids still have tons of candy left over. Instead of just throwing it all away how about donating it? Many dentist offices and hospitals will take candy donations. So will Cape Cod Cares For Our Troops.The Brewster organization has been sending care packages to soldiers overseas for eight years.They told WBZ-TV the troops love getting the candy especially as it gets closer to Christmas time.
T. F. Green "Treats for Troops" Program
(Kim with Cynthia)
5th Annual Canal Run for the Troops
Thank you to ALL that participated!
BUZZARDS BAY — Garrett Crowley of Taunton and Natalie Green of North Oxford were walking east Saturday morning along the Cape Cod Canal, bringing up the rear of the fifth annual Canal Run for the Troops. They stopped briefly to watch a fisherman pull in a sea bass and then continued on, happy to be in the fresh air and getting some exercise.
Coming toward them was Falmouth resident Brian Bourque, who was returning from the halfway mark of the race and headed toward the finish line as a first-place winner in the 5K division. Despite the differing paces, all three had the same goal in mind: to support troops stationed overseas.Green has a daughter in college who is thinking about joining the Navy. Bourque served in the Army in the Gulf War. "I know what it's like," he said after finishing the race.
The Canal run is a fundraiser for the nonprofit organization Cape Cod Cares for the Troops, which sends care packages to troops serving anywhere in the world. Since being founded in 2005 by then-12-year-old Dylan DeSilva, the nonprofit has sent more than 15,000 care packages to soldiers, according to race organizer and board member Tom Lynch. A care package for a soldier can be requested by anyone, no questions asked, Lynch said.
The race, with a 5K and 10K division, starts at the Buzzards Bay Recreation Area and continues east along the canal to the Herring Run Recreation Area for a turnaround. The course is paved and mostly flat, and next to the canal the entire way.
The race typically raises between $10,000 and $15,000 from runner's entrance fees and donations, Lynch said. Usually about 325 people participate, he said.
"They have monetary costs," in addition to the many donations that are made, Bourne resident Deborah Townsend said of one of the reasons she was participating in the race. Her brother, a Marine, was deployed to Afghanistan last year.
The race brought out runners in pink tutus. There were clumps of friends and families, some in fluorescent running clothes. There were moms in running shoes pushing strollers, a couple running with their dog and fast kids that didn't appear to break a sweat. A clan of 30 based in Attleboro ran in memory of Marine dog handler Joshua Ashley of California, Lynch said.
"The reach is far," he said.
Ziggy's Cruise Night - August 16th
Ziggy's Auto Specialties will host a cruise night in Hyannis. They are hosting this event to honor their family member PFC Paul Conlon who was killed in Afghanistan in 2008 and also honoring all of Cape Cod's fallen heroes. They have chosen CCC4TT as their charity. A fun family night with lots of awesome cars, great food, music, raffles, and more.
3rd Annual Mark Vecchione Fishing

Hap Ferrell will take vets out (photo by Merrily Cassidy)
Fishermen join force to benefit veterans
ORLEANS — Forty years ago, the slamming of his friend's car door made Hap Farrell dive for cover.
And although a lot has changed since Farrell returned from the Vietnam War in 1971, he can still relate to the mindset of returning veterans. The white-bearded, burly charter boat captain is one of 25 boat owners already scheduled to host veterans for a four-hour fishing trip out of Rock Harbor on Aug. 24.
More captains are still needed for the Mark Vecchione Rock Harbor Fishing Trip, sponsored by Cape Cod Cares for the Troops. The event honors Army Sgt. Mark Vecchione, of Eastham, who was killed in action in 2006 in Iraq at the age of 25.
The charter trip has grown in popularity each year. This year, the third time it is being held, the waiting list has about doubled. Around 46 veterans and family members are on a waiting list, said Michelle DeSilva, who co-founded Cape Cod Cares for the Troops in 2005 with her son, Dylan, who was then only 12 years old.
The nonprofit organization has since raised thousands of dollars, hosted dozens of events and mailed thousands of care packages to troops in Iraq and Afghanistan.
"It's a really great day," DeSilva, a Brewster resident, said of the fishing trip. "You just hear so many stories. It's a wonderful way to meet these guys."
The event begins at 10:30 a.m. when the veterans register at the harbor. The Orleans Fire Department hangs a huge American flag off its ladder truck. The opening ceremony, open to the public, begins at 11:15. As the boats leave their slips filled with veterans, mostly from the wars in Iraq and Afghanistan, spectators back on land clap and cheer.
"We would love to see more people there (at the harbor) to thank them for their service," DeSilva said.
When the boats return four hours later, hopefully laden with striped bass and bluefish, there's a barbecue at the Orleans-Eastham Elks Lodge on McCoy Road in Eastham for the veterans, volunteers and family members.
For the captains, donating their time, their boats and their crew is an honor, said Roxanne Hayes, office manager for the Rock Harbor Charter Service.
All 12 boat owners in the charter service agreed to do it, she said.
"I just kind of didn't even ask the guys, I just said, 'We're going to do a trip for veterans and it's not a paid trip.' They were all fine with it," Hayes said.
The boat owners usually charge $500 to $600 for a four-hour trip. With the added cost of fuel, and the loss of a whole day on the water, it's as if these captains are donating $1,000, DeSilva said.
"The veterans are the ones doing the sacrificing," Hayes countered. "This isn't a sacrifice for us."
Farrell said the lost income is well worth the trip.
Farrell has volunteered his time and his boat, the Stunmai II ("I am nuts" backward, Hayes said) for this event and a similar fundraiser held in Provincetown for the past two years.
"I don't tell them about my service until the end," Farrell said of the young veterans on his boat.
"I let them do all the talking. Some want to talk and some don't. You don't step on the toes of the guys who don't want to talk and you listen to the ones who do."
Farrell explained that soldiers learn to be on high alert in wartime.
"You expect everyone to be a bad guy," he said "You're on guard 24 hours a day."
Back home, it's hard to turn that mind-set off.
This year, some Vietnam veterans will join the younger veterans to offer their perspective, DeSilva said.
Those on Farrell's boat may see the green beret that Farrell keeps in the compartment above his radio for good luck. Slightly torn in the back, it's his from 1971 when he worked with the Special Forces in Vietnam.
Harwich Elementary School
June 14th - Flag Day
Harwich Elementary School held a penny drive and made a donation of $386.00 to CCC4TT to our country's veterans.
9th annual
Troops in the Spotlight
Memorial Day Weekend
May 26th and 27th 24 hour event at K-Mart Plaza in Hyannis, MA.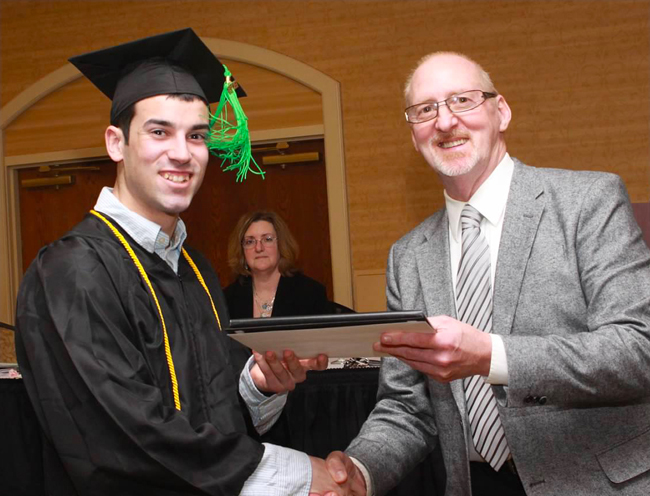 Cape Cod Cares for the Troops founder and CEO Dylan DeSilva graduates from Ohio Technical College in February